Lady Louisa, The Story of Castletown House
by Sandra Murphy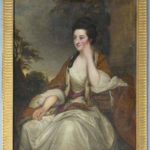 In 1759, at the tender age of 15, Lady Louisa Lennox married young Tom Conolly. Louisa was descended from royalty, her great grandfather was Charles II of England and her grandmother was Louise de Kerouaille, the infamous Duchess of Portsmouth. The illegitimate son of the king was granted the title Duke of Richmond and Louisa's father was the 2nd Duke. She was raised with royalty. Her parents were at the court of George II and Louisa and her sisters were well acquainted with the young George III.
Louisa's parents died when she was only very young and she and her younger sister Sarah were sent to live with their older sister Emily, who had married the Earl of Kildare, later Duke of Leinster and who lived at Carton House. They had a happy childhood there, Emily became mother to them as well as her own ever-expanding brood of children. Emily had 22 children in her lifetime and Louisa no doubt spent much of her time helping in their upbringing.
The young Louisa made great use of the Carton stables, going riding out whenever she could. She would ride out towards the folly, built by the great Katherine Conolly in 1743, and the visual mark of the boundary between Castletown and Carton. This is where she met Tom and fell in love. They were married in 1759 and after a few months of travel and meeting friends and family in England, they returned to Ireland and began their life at Castletown.
Tom was the great nephew of William Conolly. William was born in Ballyshannon, Co Donegal and was the son of Patrick Conolly, a Protestant landowner and innkeeper.
He bought the Castletown estate from the Dongan family in 1709 and in 1722, embarked on the building of the Palladian mansion that stands there today.
William studied law at Trinity College and embarked on a highly lucrative legal career during which he acquired vast wealth through his political offices and land acquisitions. It is estimated by the time of his death, William Conolly had amassed over 150,000 acres of land and an annual income which today equates to €4.2m.
His political career was no doubt helped by his marriage to Katherine Conyngham. She was the daughter of Albert Conyngham, Williamite war hero who had some powerful familial connections across Ireland. Katherine brought a dowry of £10,000 which was invested in land in Kildare, Donegal and Wales.
Williams political career was as successful as his land acquisitions. In 1715, he was appointed Chief Justice and in 1719, became Speaker of the House of Commons, a post he held until his resignation shortly before his death in 1729.
As William and Katherine had no children of their own, it was William James Conolly, son of William's brother Patrick who had inherited the great fortune and the Castletown estate after Katherines death in 1752. However, William James died two short years later and his wife Anne returned to England with her children, leaving the house empty and shut up until Tom had reached his majority at the age of 21.
Louisa and Tom were young, in love and very, very wealthy and when they returned to Castletown, they found an unfinished house which was out of fashion and unsuitable for a young family. William and Katherine had built the house as a political statement of superiority and upon Williams death, it had become the retirement home of an elderly widow. Dramatic changes were needed to bring the house up to Tom and Louisa's high standards and they embarked on an almost twenty-year long scheme of decorative and landscaping improvements. Louisa brought the latest fashions to Castletown, she employed the famed Swiss-Italian stuccodore Filipo LaFrancini to decorate her Italianate stair hall with some of the most sumptuous plasterwork in all Ireland; she brought an English artist named Riley to decorate her new Long Gallery in the newly fashionable Pompeiian style. She created two modern drawing rooms along the ground floor enfilade with ceilings by Serlio and Isaac Ware, Italian marble fireplaces and richly woven silk wall coverings. She removed the formality of the old house and brought it back to life as a light, young and welcoming family home.
Louisa always wanted a large family, her sister Emily had over twenty children in her lifetime and while Louisa may not have hoped for quite so many, she said that she wanted to 'fill the halls of Castletown with the laughter of children'. Unfortunately, Louisa and Tom were never to have children of their own. In the early years after their marriage, it was thought on a few occasions that Louisa might be 'breeding' but sadly, no children. Louisa did become pregnant but miscarried and was confident after that she would be unable to become pregnant again. However, this sadness didn't stop Louisa from mothering the many, many children who came under her care in those sixty three years.
Tom's sister Harriet had married John Staples, and upon her death in 1771, their two daughters Louisa and Harriet were taken in by Tom and Louisa. They became their children and it was Louisa Staples' son Edward who inherited the Castletown Estate after Louisa's death. Louisa was very involved in their care, and took on the roles of both mother and educator.
Harriet and Louisa were not the only children that Louisa cared for. Her correspondence is full of references to the care of children whose parents were unable to care for them due to illness or death. Right up to her death, she was caring for children.
Perhaps the most memorable of these was her niece, Emily Napier. She was the daughter of her sister Sarah and her second husband, Colonel George Napier. Emily came to live with Louisa at Castletown as a baby and became as her own daughter. She was Louisa's constant companion, caring for her in her old age and it was in the heartbroken Emily's arms that Louisa passed away.
Louisa was just like all parents in a lot of ways. In November 1807, she was caring for two young children names William and Eizabeth. There was snow laying on the ground and the children were wet 'up to the knees' after playing out in the gardens. Louisa had them run up and down the Long Gallery to warm up and then set them to colouring. When the two children argued over colouring supplies, as brothers and sisters do, Louisa was 'quite happy when it was 8 o'clock' and she could send them both to bed.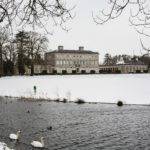 As well as caring for children, Louisa and Tom had very active social lives. They hosted dinners and dances. Their house was a party house, entertaining a who's who of the social elite of the time. They went to balls in Dublin Castle and entertained society at Castletown. Tom was an MP but was also an avid sportsman, regularly leading hunt parties across the ample hunting grounds they enjoyed at Castletown.
Tom had the first pack of hounds ever kept in Ireland. They lived in specially built kennels which were located at the Celbridge gates. He had stables at Castletown and also on the Curragh. He bred horses with names like Whiskey and Chestnut and was known as 'Squire' Conolly. After a hunt, there was always a lavish hunt dinner and Tom's hunt dinners were legendary.
Louisa was frequently visited by her sister Emily and her sister Sarah lived with her at Castletown for a while. She spent time in England and a lot of time in France, visiting her own interests there. She had inherited a chateau through her French ancestry and spoke French as easily as she did English. Tom and Louisa led a happy life.
Louisa spent time with her beloved Emily at Carton, she spent long winters in London catching up on latest fashions and social news. While at Castletown, she busied herself with improvements. She created the Dining Room, remodelled most of the ground floor and 1st floor but also created projects like the Print Room. A 'rainy-day' activity of sorts for ladies of the later eighteenth century, the Print Room was a scrap book of Louisa's social and political interests. Lady Louisa collected prints of paintings from various sources and carefully arranged them around the walls of an informal sitting room. The Print Room at Castletown is unique in Ireland and one of the finest in Europe.
She built a farmyard where she kept pigs, geese, cows and began to produce food. This not only reduced the cost of purchasing these foodstuffs but also provided employment opportunities for local people.
She also provided employment by establishing a straw bonnet factory in Celbridge. This enterprise trained women in the production of these new, fashionable hats. Through Louisa's influence and involvement, these bonnets became quite popular, with members of the Royal Family even being seen in them.
And then, it all changed. Two years after the Irish Parliament disbanded itself through the Act of Union, Tom died. Still a young man in his early fifties, it was a shock to all and a heartbreak for Louisa. Her dear flea, who had been her best friend for over forty years had left her. He died in her arms and his last words to her were that he left her all he had, in the safe knowledge that she could do more good with it than he ever could.
And that is exactly what she did. Her social life took a back seat and she devoted the rest of her life to others, putting everyone else's needs before her own. She always sought to do good rather than to just appear to do good; and she did a lot of good.
Louisa took on a school established with money left in William Conolly's will. But she also built another school on the site of Tom's old kennels. Completed in 1820, it was for children of all faiths to receive an education in skills that would enable them to find employment. She educated children of Catholic and Church of Ireland families together, believing that this was the way it should be done, and they received religion lessons from ministers of their own faith.
Louisa had a great interest in education. Her correspondence refers to reading titles on the theories of education and it seems that Emily Napier acted as tutor to the young children under Louisa's care, under direct supervision of Louisa herself.
She used to look after the local people in a quiet way too. There are stories told about her filling the pockets of a long coat with carrots and parsnips from her own garden and distributing them to local families in the village. Her correspondence which speaks of servants always refers to them in a respectful way. She formed a special relationship with a ladies maid by the name of Bell, and when Bell had her first baby, Louisa's joy at the safe arrival of the little boy was made very apparent by the fond way in which she referred to the new baby.
Louisa also looked after her own family. When her sister Sarah was in disgrace due to having had an affair, Louisa brought her to Castletown and maintained a close eye on her when she was living at Oakley House, also in Celbridge.
She invited family members to use her house as their home on numerous occasions. She offered sensible and experienced advice to family about investments, building and social etiquette.
The last couple of years of Louisa's life were spent purely in looking after others. When her beloved young Elizabeth became ill, Louisa's concern consumed her. It was a long illness and Louisa did everything in her power to make her well again, travelling long distances to see doctors and to find cures. She even procured the Prince of Wales' royal yatch to take her to Malaga in the hopes that the dry sunny air would cure her. Alas, Elizabeth was too ill and never got to make that journey but Louisa cared for her even though she was herself becoming weak through old age.
In the final months of her life, Louisa suffered a great deal and her final months were spent in great pain. Despite this, she continued to attempt to do good and her concerns for her young charges stayed with her to the very end.
When the end finally came, Emily was with her. Her death was a sad relief for those who loved her and who hated to see her suffer as she had. Her demise was met with grief by all. Her nephew George left an account of her funeral. She was laid out in her bedroom for the local people to bid her farewell and George describes the outpouring of grief that he witnessed. Her funeral was attended by thousands. Her reputation had spread across the whole of the country, her kindness was legendary. George Napier's account says the peoples grief was like that of people who had lost a parent. She had become the mother of the people.
After Louisa's death, Castletown passed to Louisa Staples son, Edward Michael Packenham. He changed his name to Conolly as required by William Conolly's will and over the next two hundred years the house stayed in the Conolly family. Throughout, Louisa's legacy kept burning in the hearts of the Celbridge family. During the famine of the 1840s, it was on land built by the Conolly family that the workhouse was built. Tenants of the Conolly's were allowed to cut as much turf as they required from the nearby Crodaun bog, owned by the Conolly family and they provided education and employment for the local people right up to the time that they were forced to sell the house.
In the 1920s, when so many of these architectural icons were being burned to the ground amid the nationalist tensions of the time, Castletown was unharmed.
After the sale of Castletown in the 1960s by the Conolly-Carew family to a property developer, the house again lay silent for two years until in 1967, Desmond Guinness and his wife Mariga bought it. They opened it to the public in 1967 and it was the first house opened to the public to tour in Leinster.
Castletown was run by Desmond and Mariga, and then by the Castletown Foundation until 1994 when it was handed over to the Irish State and became the care of the OPW. Today, the grounds are visited by almost 700,000 people a year, with nearly 28,000 of those visiting the house. Castletown is once more a hub of activity with a conference centre and a full cultural programme of music, theatre, monthly craft markets and seasonal events. It provides education through the OPW's Free Educational Visits for schools programme and conserves and restores Lady Louisa's prized decorations and furniture.
Castletown is once more brought to life.
Sandra Murphy 2020