A Personal List of Precious Items
Caring for the collection in Castletown falls to conservation specialist Linda Kearns. For more than ten years, she and her team have been following a rigorous maintenance regime to ensure that each item in the collection receives the care it requires. Linda has been crucial to Castletown House's successful application in 2012 for full accreditation under the Heritage Council's Museum Standards Programme for Ireland – and for its maintenance of the status in 2016. Looking after the rare and precious objects under her care over so many years, she has developed her personal list of not-to-be-missed highlights which she is willing to share with online visitors.
Click on a thumbnail to see a larger image.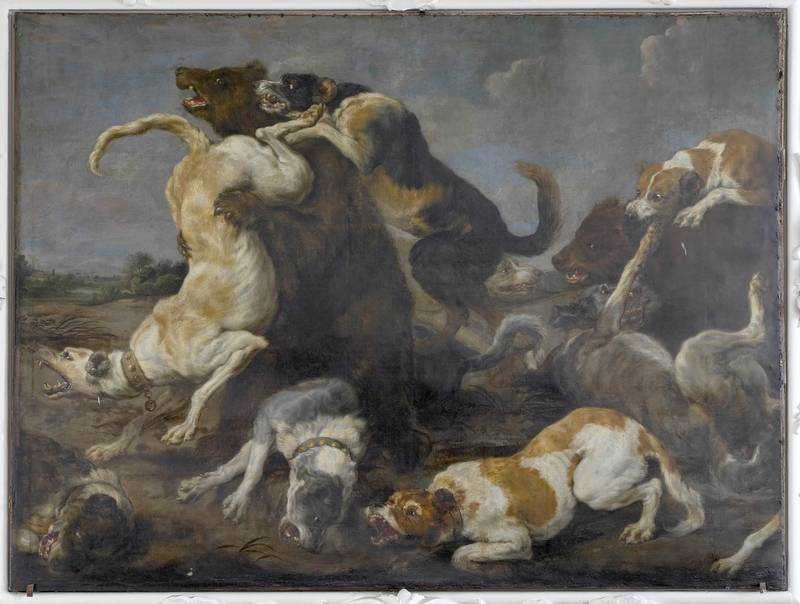 The Bear Hunt, studio of Paul de Vos, c.1690.
Castletown's Bear Hunt is a copy of a painting by 17th-century Flemish painter Paul de Vos, which is part of the collection at the Hermitage Museum in St Petersburg. It was cut down at some stage on the right side to fit into the central plaster recess above the cantilevered staircase, which would indicate that the painting was not commissioned for the space. Unlike the hunting scene, the two paintings in the other two recesses in the Staircase Hall depicted Bacchanalian revelries in the style of François Boucher. Both were sold in April 1966. Photograph by Davison and Associates.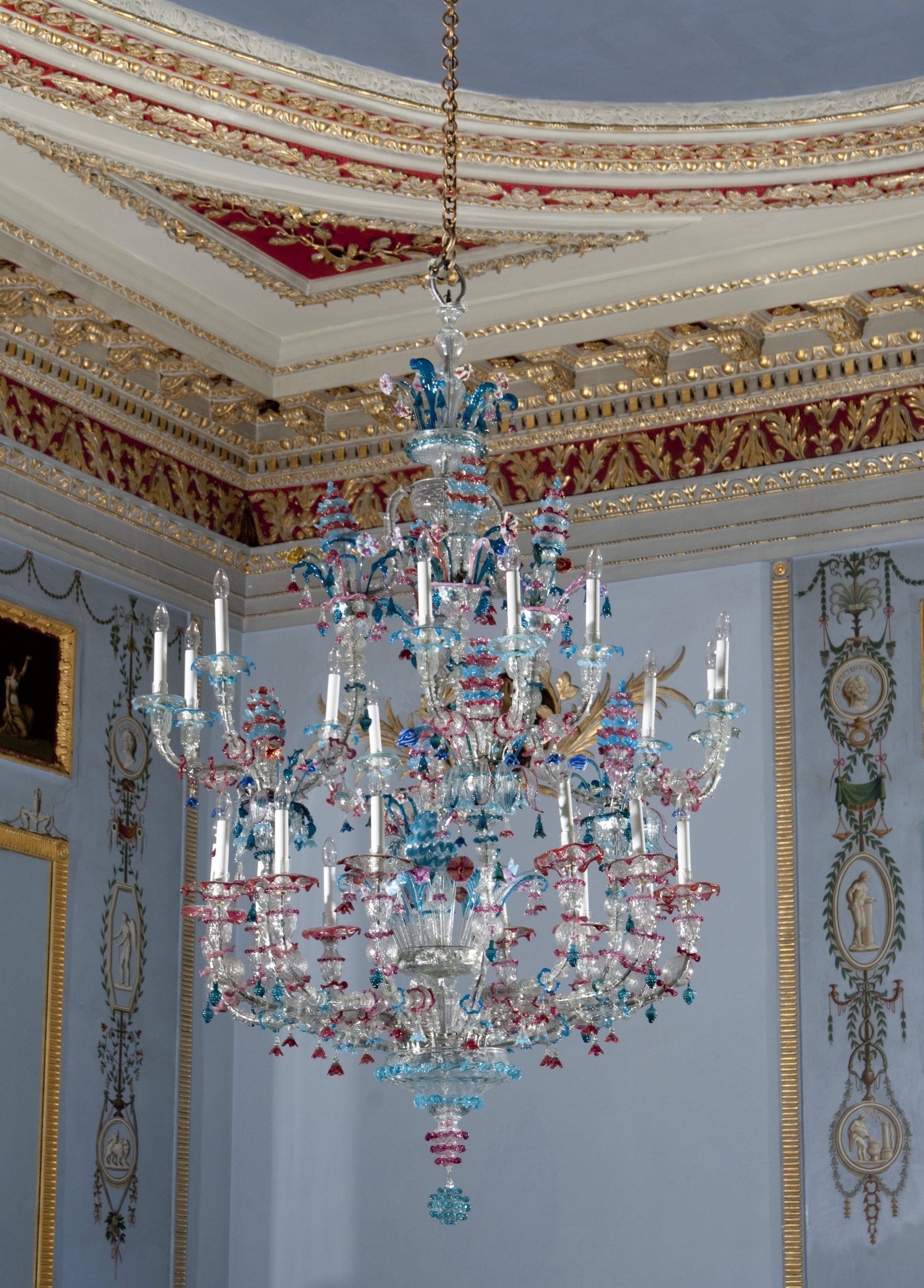 Set of three chandeliers, Italian, c.1775.

A set of three 18th-century Venetian coloured and plain glass 24-light chandeliers, decorated with flower heads and moulded finials. These three Murano glass chandeliers are unique in Ireland and rare even in Italy. It is believed that Lady Louisa ordered them from Venice between 1775 and 1778 for the redecorated Long Gallery. The chandeliers were wired for electricity in the mid-1990s; they were cleaned and restored by a Venetian firm of historic glass-makers in 2009. Photograph by Davison and Associates.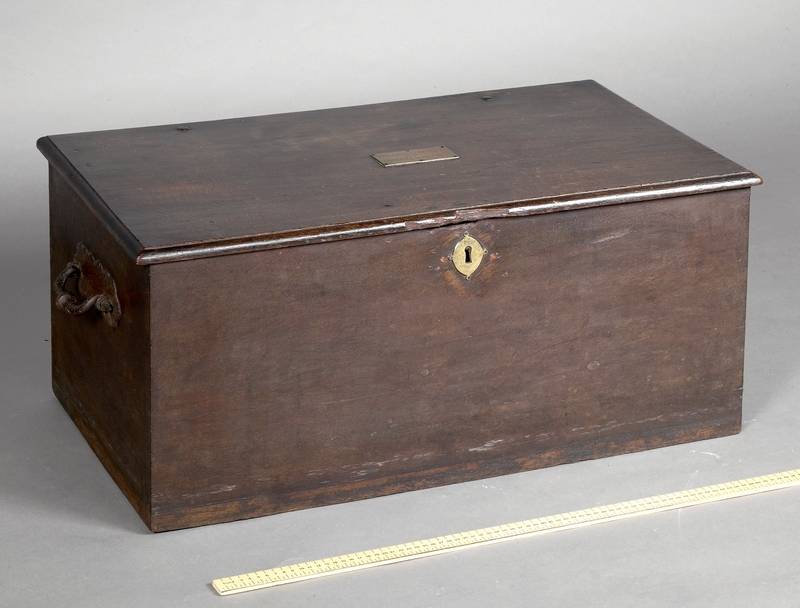 William Conolly's oak deed box, early 18th century.

Made of Irish oak with blackened iron carrying handles, this box contained the deeds and papers of Speaker William Conolly (1662–1729), once the most powerful and richest commoner in Ireland. He and his wife Katherine had no children, so when William died, he left Castletown and his estates to his nephew, William James. Photograph by Davison and Associates.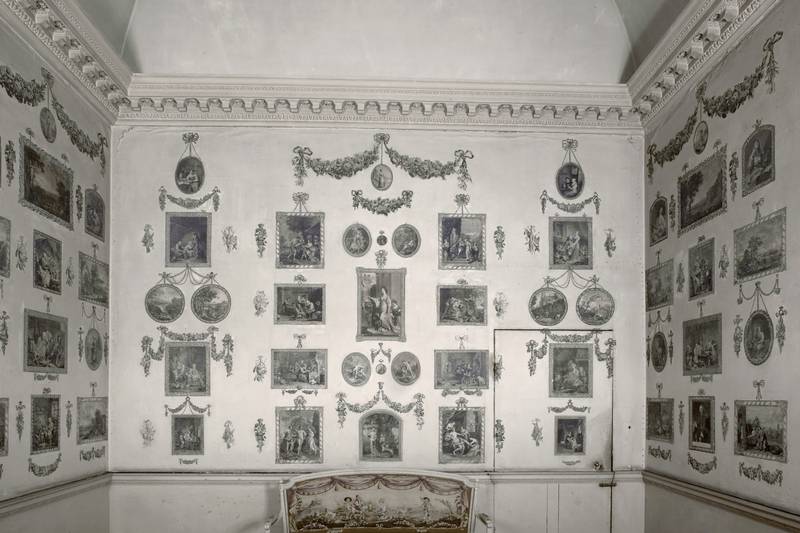 The Print Room, by Lady Louisa Conolly, completed in 1769.

More than any other room in Castletown, the Print Room bears the imprint of Lady Louisa, who assiduously collected, cut out, and arranged individual prints, frames and decorations. The prints were glued on panels of off-white painted paper which was later attached to the walls on battens covered with cloth. Lady Louisa thus created an intimate, highly individual room which has survived changing tastes and fashions and is now the only fully intact eighteenth-century print room in Ireland. Photograph by Davison and Associates.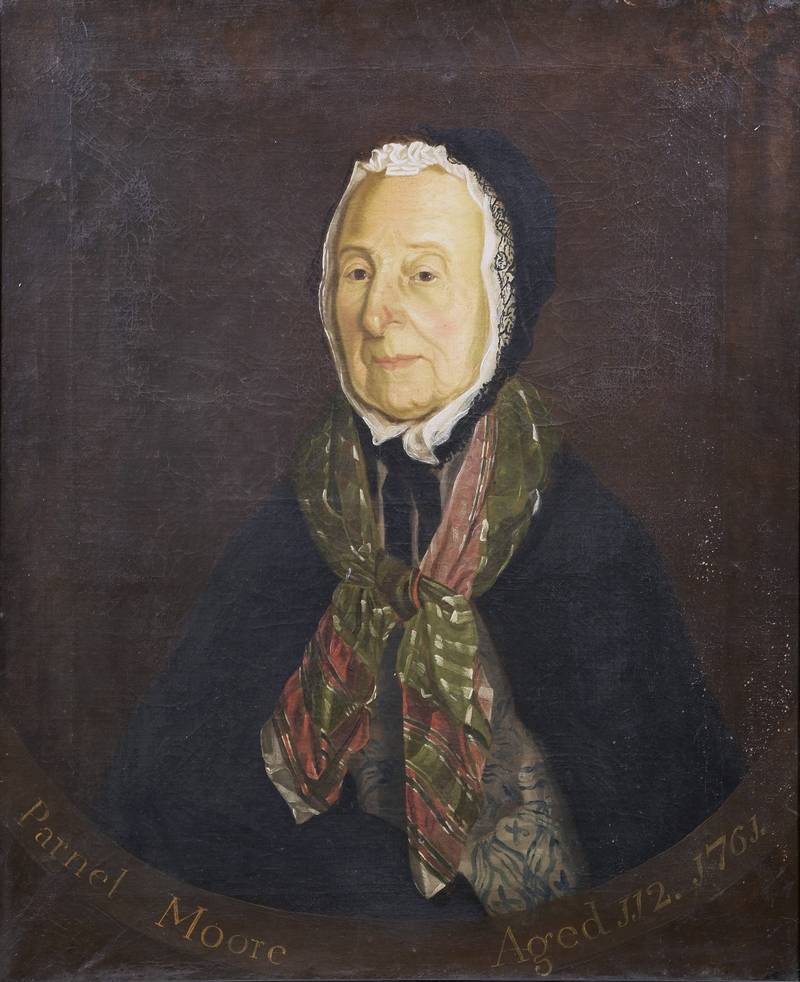 Portrait of Mrs Parnel Moore (1649–1761), Artist unknown, 18th century.
A house like Castletown relied on an army of servants and this portrait of former housekeeper Mrs Parnel Moore – aged 112 according to the inscription – dates back to the beginnings of Castletown and is one of the oldest original items in the collection. Photograph by Davison and Associates.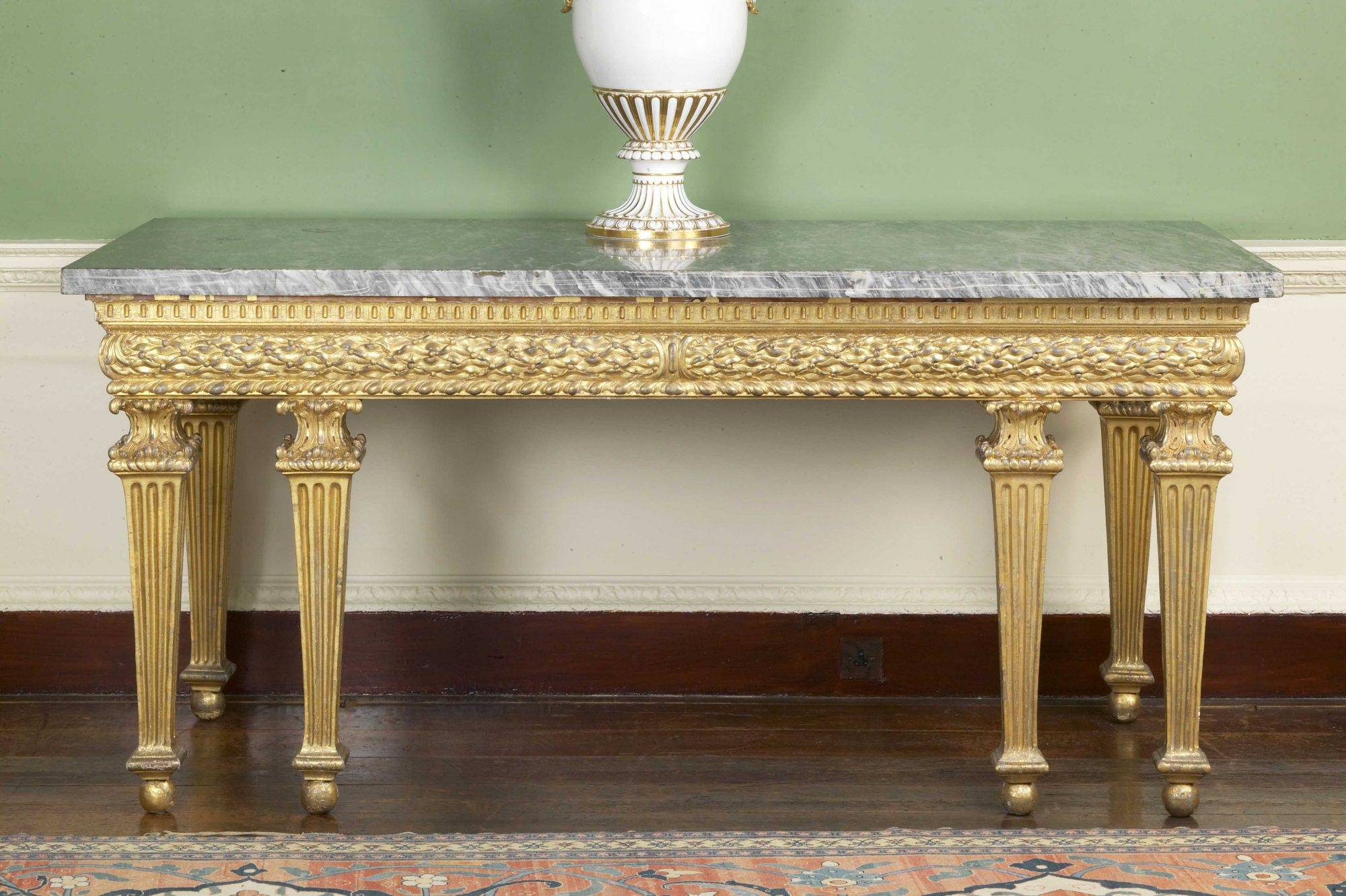 Pair of serving tables, attributed to Richard Cranfield, c.1768.
A pair of Irish early George III oil and watergilded serving tables with moulded rectangular veined grey marble tops. This pair of neo-classical tables is in keeping with the style of the Dining Room, created in the space originally occupied by two rooms around 1767. They are believed to be the work of Dublin-based carver Richard Cranfield. Photograph by Davison and Associates.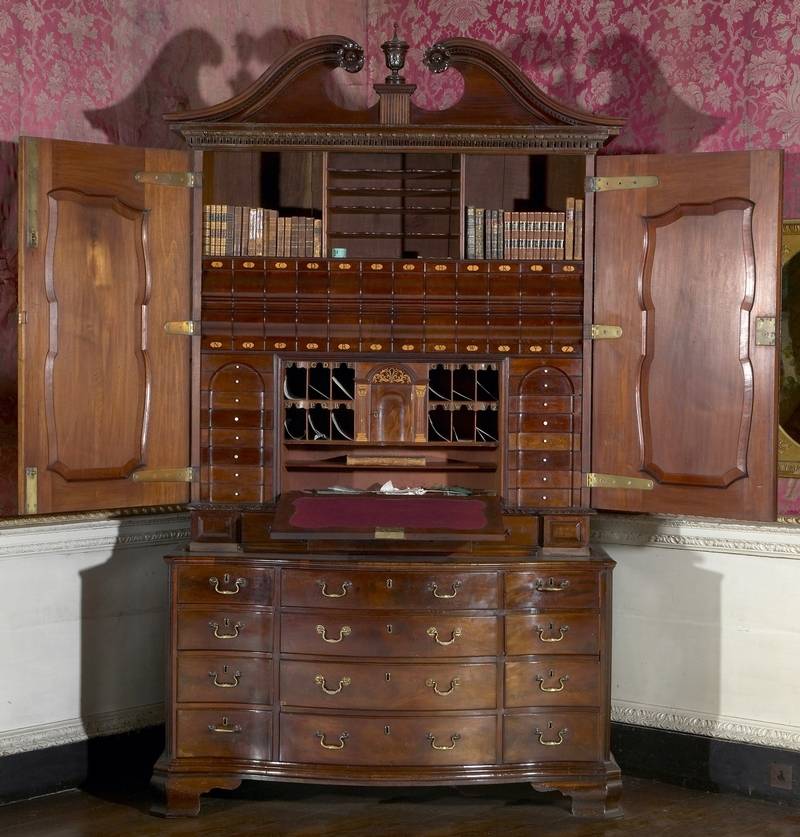 Mahogany bureau-cabinet, Irish, c.1760.

A George III mahogany cabinet with dentilled-scrolled broken pediment carved with rosettes. Throughout her life, Lady Louisa maintained a regular correspondence with her sisters and brothers in Ireland and England, and it is easy to picture her writing her epistles at this bureau and filing the letters she received in the initialled pigeonholes and drawers. A handwritten transcription of her letters to her siblings can be accessed in the OPW-Maynooth University Archive and Research Centre in Castletown. Photograph by Davison and Associates.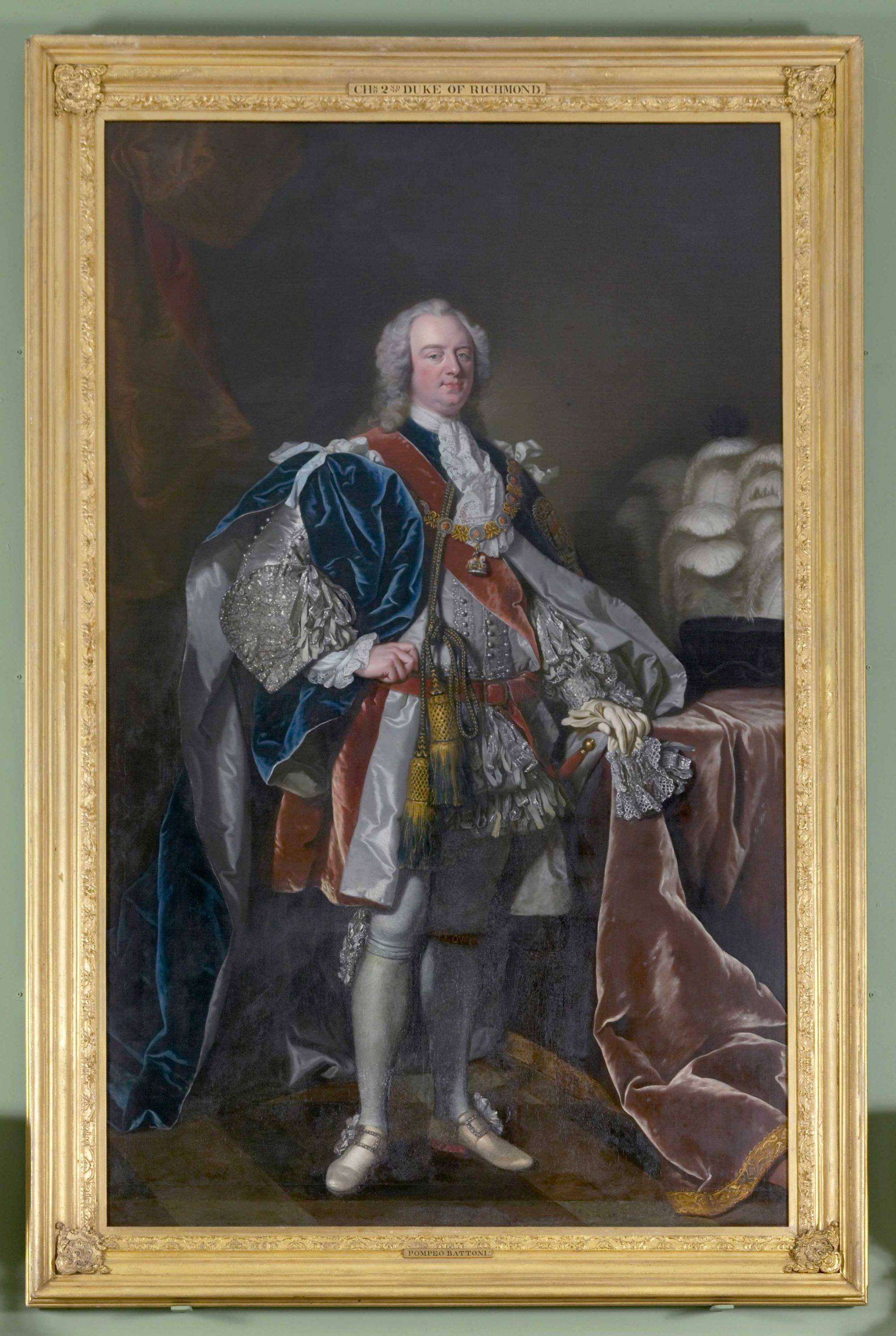 Charles Lennox, 2nd Duke of Richmond, by Jean-Baptiste Van Loo.
Half-length portrait of Charles Lennox (1701–1750), 2nd Duke of Richmond and 2nd Duke of Lennox, wearing armour with the ribbon of the Order of the Garter, in a contemporary frame in the manner of William Kent. Photograph by Davison and Associates.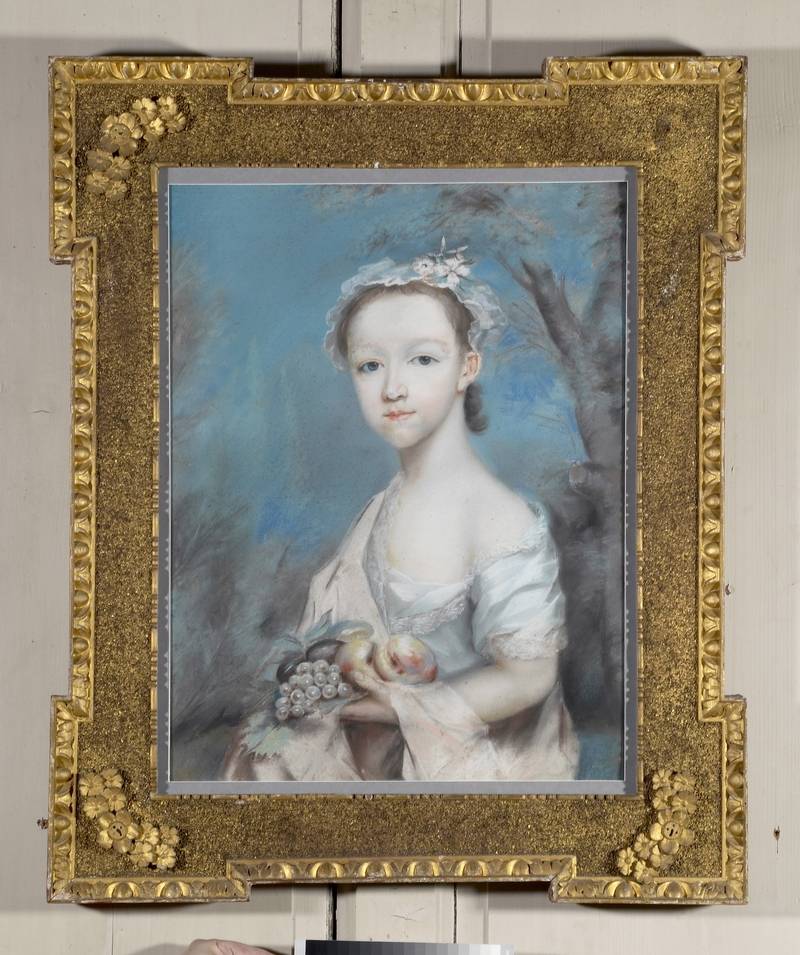 Pastel of Lady Louisa Lennox, circle of Geoge Knapton, c.1747.
This pastel is attributed to the circle of George Knapton and depicts Lady Louisa at the tender age of four. Louisa was the daughter of Charles Lennox, 2nd Duke of Richmond, and his wife, Lady Sarah Cadogan. Her parents died when she was eight years old, and both she and her two younger sisters, Sarah and Cecilia, went to live with their older sister Emily, Countess of Kildare, in Ireland. Photograph by Davison and Associates.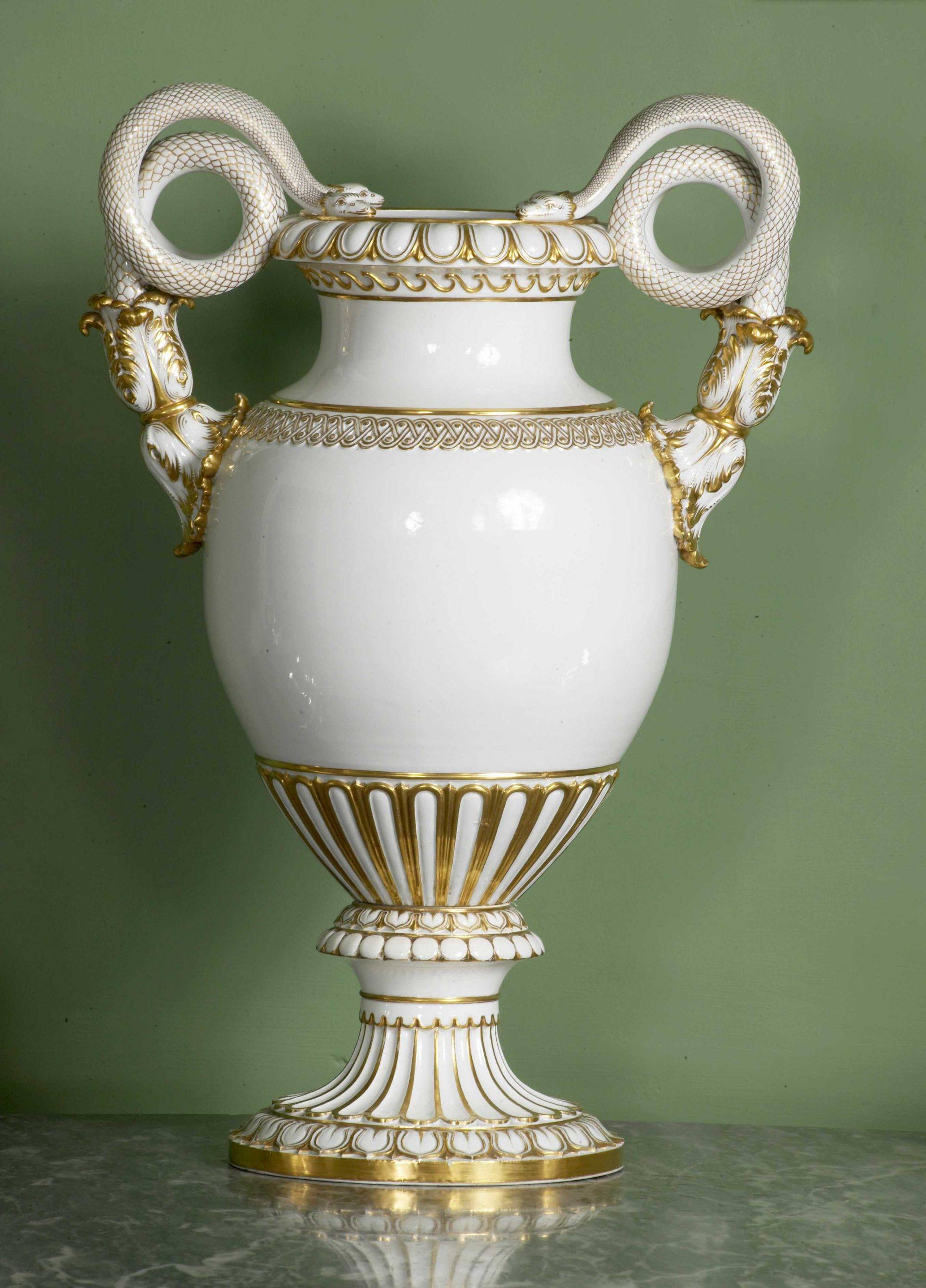 Pair of vases, German, c.1850
.
A pair of large Meissen gilt and white two-handled campana vases with entwined scrolling serpent and acanthus handles. This pair of vases is reputed to have been given to Thomas Conolly (1823–1876) as a gift by the future French Emperor, Napoleon III. Photograph by Davison and Associates.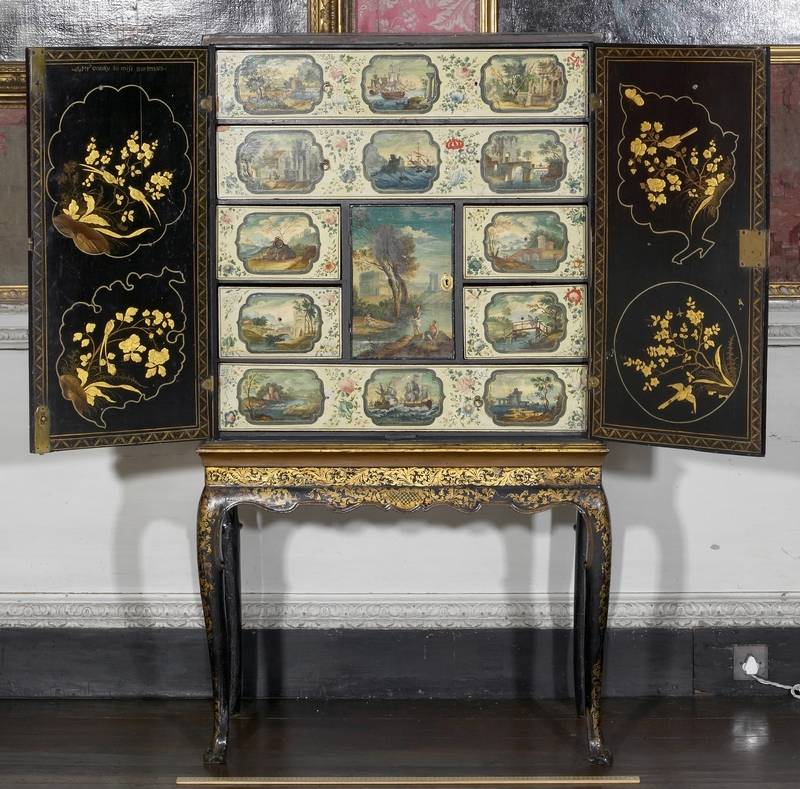 Japanned cabinet, early 18th century.
A Chinese gilt and polychrome lacquer cabinet on Irish stand, with a pair of doors later painted with vignettes of romantic landscapes and birds on floral sprays. The landscapes on this lacquered cabinet are said to have been painted by Katherine Conolly as a gift for her great-niece, Molly Burton, in about 1725. Katherine, who had no children herself, looked after Molly after her father died. Photograph by Davison and Associates.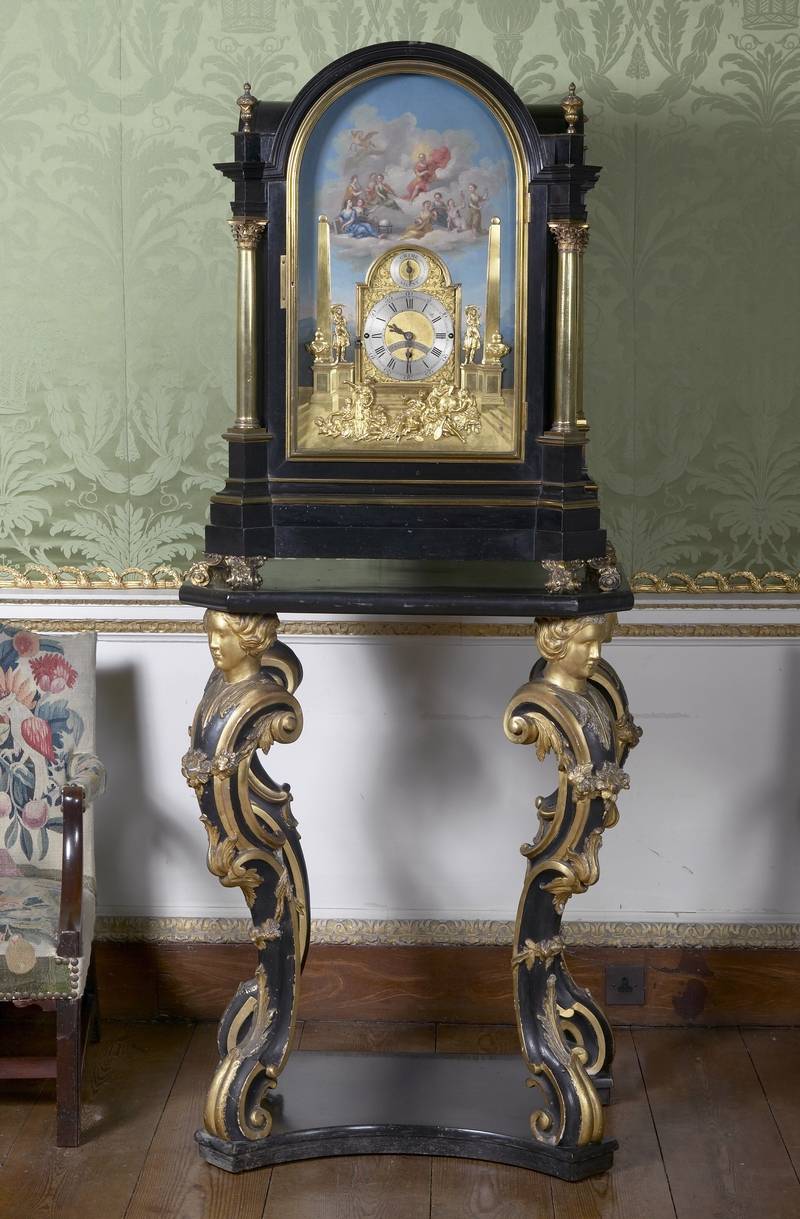 Musical Clock by Charles Clay c.1730.
Katherine and William Conolly are credited with bringing this important musical clock to Castletown. It was made by Charles Clay, official clock-maker to His Majesty's Board of Works in London. It is the only clock of its kind known to be in Ireland and its sweet chime can be heard throughout the enfilade. Photograph by Davison and Associates.