Movie Magic at Castletown (Act 2)
The second instalment of the Movies at Castletown blog starts in the 1980's. Castletown obviously lends itself to period drama, but there is also a WWII film with Lee Marvin and a 1980's comedy with Robbie Coltrane and Dan Aykroyd. We will proceed in chronological order to avoid any suggestion of preference. The photos are screenshots taken from the trailers or the productions themselves. Thank you to those who emailed us reminders, it has been entertaining working through them all.
The Big Red One was filmed in 1978 and released in 1980. I think it's fair to say it was critically acclaimed and is a favourite with fans of war movies. It follows a battle hardened sergeant and the four core members of his infantry unit as they try to survive WWII.  The cast includes Lee Marvin, Mark Hamill and David Carradine. The movie was recut and rereleased in 2004. The 'Big Red One' of the title was the first Infantry division of the Americana army, and gained it name from the red numeral that has adorned its shoulder patch since 1918. The movie was written and directed by Samuel Fuller who was with the 1st Infantry throughout WWII. He was involved in landings in Africa, Sicily, and Normandy and also saw action in Belgium and Czechoslovakia. In 1945 he was present at the liberation of the German concentration camp at Sokolov and shot 16 mm footage that was used later in the documentary Falkenau: The Impossible. For his service he was awarded the Bronze Star, the Silver Star, and the Purple Heart. The fictional journey of the men in 'The Big Red One' is based on his experiences.  You can view the trailer here https://www.youtube.com/watch?v=3ULNdO6knRY .
We thank Simon Cassidy for contacting us. He grew up in one of the bungalows owned by Desmond Guinness in the far corner of the front field, near the Gate Lodge (now completely gone) and remembers many movies being shot at Castletown. He remembers the Big Red One he says because 'he was standing in the kitchen one day when the whole house shook from an explosion in the front field. They were getting rid of leftover dynamite from the movie by blowing up fallen trees in the front field'.
The most obvious location for those of you familiar with Castletown is the café and its curved corridor representing a café in Belgium during the war.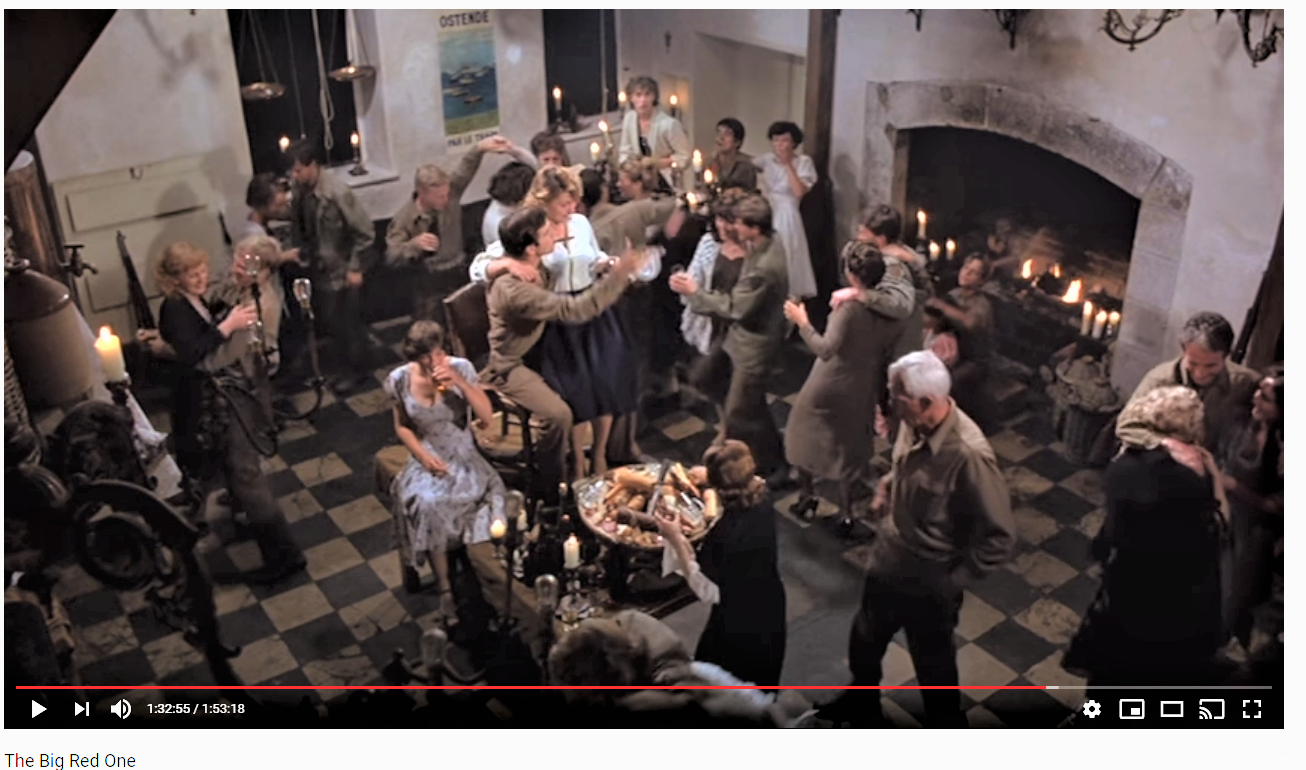 In 1980 the wonderful Peter Sellers starred in a series of advertisements for Barclays bank. He died shortly after filming so they were his final work. Castletown is featured in the second one from 59 seconds, but all three advertisements are worth a look. https://www.youtube.com/watch?v=36dTSwRwq50.  I feel the scene below should be re-enacted when the world returns to normal.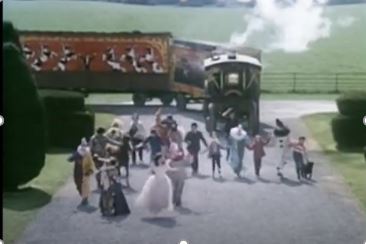 1998 saw a return to period drama, and the television movie St Ives or All for Love (UK). The film is based on an unfinished novel by Robert Louis Stevenson. A dashing French army officer, capitaine Jacques de Keroual de Saint-Yves, is captured by the British during the Napoleonic Wars and sent to a Scottish prison camp. While there he falls for a local girl, befriends the commanding officer, and discovers a surprising secret about his long-lost grandfather. It was filmed mainly in Northern Ireland but Castletown also features. The film is an entertaining romp but was not well received critically. On its release in 1999 the guardian described it as 'not having the literary credentials of Pride and Prejudice, so they've made up for it with safe casting. A line-up that has all the predictability of the bookings on a comedy panel show: Anna Friel reprises her ball gown from Our Mutual Friend. Richard E Grant swaps the fop-flop Scarlet Pimpernel for an uptight wuss of an English Officer. Miranda Richardson bags the lecherous opium-smoker role (not as interesting as it sounds), and the hunk factor comes in the shape of Jean Marc Barr, all big Ginola hair and "eyes as deep as desert skies". Ouch!
The trailer can be viewed at  https://www.youtube.com/watch?v=06sGHAiEE8U or this one with the song 'All for one' if you are a fan of Anna Friel and Jean Marc Barr https://www.youtube.com/watch?v=dIx0f5FYtfE&t=107s. Castletown's Staircase hall features in the trailer. Thanks to Lyndah Butler for emailing to remind us.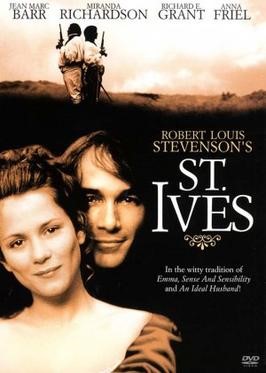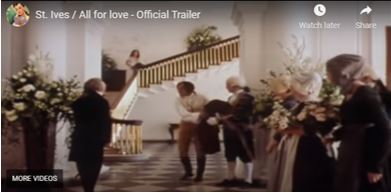 2001 saw a return to contemporary films and a Robbie Coltrane/Dan Aykroyd  Irish/Canadian produced comedy called On the Nose. Aykroyd explains the movie better than I can in this extract from an Irish Times interview he gave at the time.
'I'm here doing a film that was called Delaney's Flutter and is now called On The Nose. It's a great comedy film written by Tony Philpott and starring Robbie Coltrane and myself and it's about how a porter at a Dublin medical college has found an ancient relic which has the ability to predict the winning horse at the local races. I don't want to say too much about it, but for me it's like a Carry On or an Ealing comedy venture. It's all about concealing things, people playing to their own agenda and the absurdity of it all. There's a real Full Monty sense to it.'
The cast is impressive with Coltrane, Aykroyd, Brenda Blethyn, Don Baker, Simon Delaney and Glynis Barker (Dempsey and Makepeace anyone?) amongst others. They make great use of the basement (see photo) and other areas of the house. The opening scenes of the credits have Dublin Castle and the staircase at Castletown doing an impressive stand in for Trinity College. You can view the trailer at https://www.youtube.com/watch?v=8Ei8kqPkm7I. The German release is pictured and translates as 'The Golden Smell'. Fiona MacDermott put us on the scent of this one (couldn't resist!).
2002 brought us back to period pieces and The Abduction Club. It is set in 18th century Ireland  and introduces the Abduction Club, an infamous gang of men who woo, abduct, and marry wealthy heiresses. Garrett Byrne and James Strang are both younger sons and to improve their situation, they set their sights on the Kennedy sisters. The film is based on a true story and none of the main characters do as well in real life as they do on screen.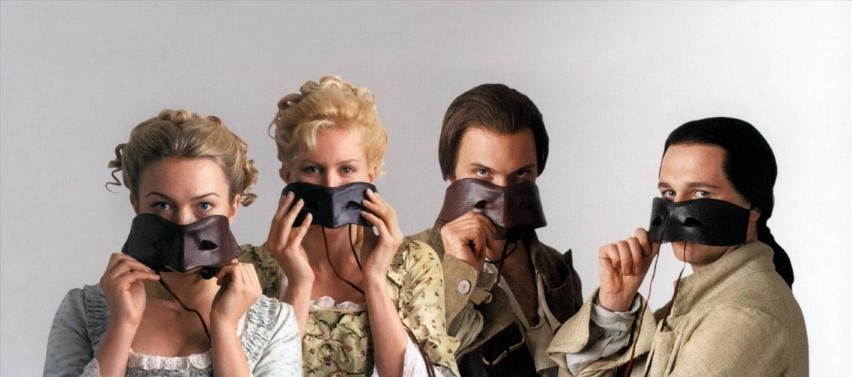 The cast includes Alice Evans, Daniel Lapaine, Matthew Rhys, Sophia Myles, Liam Cunningham and Edward Woodward. It was shot mainly in Wicklow with some scenes in Castletown. The couples are credible with Strang and Anne being the more endearing pair. The implicit approval of the abduction of women does leave one wondering if the film would be made in 2021. I suspect not.
I couldn't resist the picture of the four leads with their masks, very topical ! The Butler (below) is knocking on the door of our wonderful Long Gallery on the first floor.
A slight change of pace now , to a very short documentary in 2011. The Open University produced Ireland: The Arts Past & Present and Castletown featured as the 7th of 8 short films. It is available at https://www.youtube.com/watch?v=eZ4Dv8R7BHs and features some wonderful old footage including the sale of the house and work undertaken by the Irish Georgian Society. The interview with the late Desmond Guinness is a nice reminder of his involvement with Castletown. At just under 4 minutes this is a nice bite size piece of history.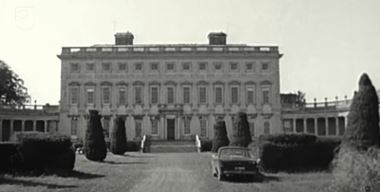 The TV series Blood has filmed on and off in Castletown since 2018 mainly for outdoor shots. Regular walkers will recognise the landscape. You can view the trailer here https://www.imdb.com/video/vi1334230553?ref_=tt_pv_vi_aiv_1. It is a phycological thriller starring Adrian Dunbar, Carolina Main and Gráinne Keenan and it is set in Co Westmeath. If you like your TV dark then this is for you, Dunbarr is great. The series films in lots of locations around Kildare and Meath so there is the added fun of trying to guess where they are!

The film that came up regularly as being filmed in Castletown was Barry Lyndon. I cannot find any evidence. There was filming at Carton and Castletown House near Carrick-on-Suir which may be causing confusion. The full list of locations as per the movie is here http://www.movie-locations.com/movies/b/Barry-Lyndon.php. This is one where I would love to be proven wrong.
There will be a Movie Magic at Castletown, Act 3. Anything very recent will have to wait. If you have information on any older productions we haven't covered yet then please let us know at castletown@opw.ie. We are willing to follow up on any and all information.
Celine Hanratty.