Movie Magic at Castletown
This blog will look back at some of the TV shows and movies which used Castletown as a location. In 1983 Castletown's Courtyard café changed its name for Educating Rita. Remington Steele aired its final episodes in 1987 and Castletown features heavily. RTE's Classic Jam aired in 2008 and apparently The Den and Zig and Zag were here also for an outside broadcast, although pictures were impossible to find! Charlie which aired on RTE in 2015 featured the Green Salon and enfilade. The final section below is a little indulgence, and features Saoirse Ronan and a Harriet Hockley Townshend painting!
The Aristocrats was a BBC drama series based on Stella Tillyard's book of the same name and should have been based in Castletown but unfortunately the house was undergoing extensive restoration work at the time.
Educating Rita
In Educating Rita (1983) Castletown became France. Below, we see Frank (Michael Caine) reading a letter from Rita (Julie Walters) while on holidays in France. The Castletown Courtyard Café became L'Éperon D'Or, and the weather obliged!
In a nice tie in, one of our guides Andrew was inspired by Educating Rita to change career.
Retails loss is Castletown's gain.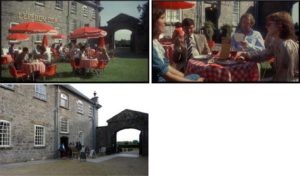 (Photos from https://www.reelstreets.com/films/educating-rita/)
Remington Steele
The final episode of Remington Steele (Season 5, Steeled with a Kiss) was filmed in Ireland. Remington Steele (Pierce Brosnan) inherits a castle in Ireland. Ashford was used for the exterior of the castle but all of the interiors were Castletown House. The final scenes see Steele carrying Laura up the beautiful cantilevered staircase for their own happily ever after! Can you spot the rooms in the stills below?
Available at https://www.dailymotion.com/video/x5v20qg and https://www.dailymotion.com/video/x5v20qh. Castletown features more prominently in Part 2.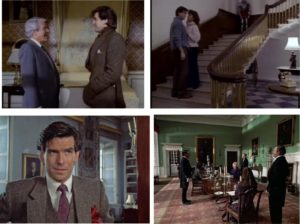 Classical JAM
Classical JAM was an RTE production from 2008. It was presented by Paul Walsh (above in the Staircase hallway) and Kathryn McKiernan and it followed 12 young classical musicians and their mentors.
Charlie
The RTE documentary Charlie aired in 2015 and episode 3 (about the 21 minute mark) sees Aidan Gillen as Charles Haughey in the Green Drawing room. Haughey is president of the EEC and discussing Mrs Thatcher's position within Europe.
'Mrs Thatcher's conservative Party is split down the middle between those who think Britain is still a world power at the head of a glorious empire and those who realise it is a little island with deep social problems dependant on the markets of its neighbours. She has been able to pose as anti-Europe while never having to walk away from us. If she supports us she will lose one half of her party, if not and she is forced to leave the EEC she will lose the other half.'
Brexit anyone?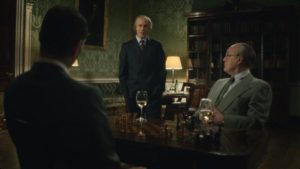 https://www.rte.ie/player/series/charlie/SI0000000304?epguid=IP000058754
The photo below is the last shot of the series featuring our beautiful enfilade at the back of house, although in Charlie it opens onto Dublin Bay!
My little Indulgence
I had never heard of the Irish artist Harriet Hockley Townshend (1877-1941) until I began working at Castletown. We are lucky enough to have three of her works, and I was immediately struck with how similar her Portrait of a young girl is to Saoirse Ronan in Atonement. I feel they share a similar fey spirit. What do you think?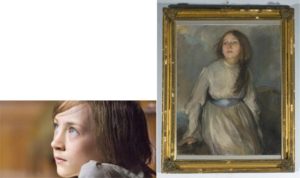 http://movieactors.com/actors/saoirseronan.htm
 We hope you have enjoyed our trip down memory lane. If you know of any other productions which used Castletown as a location please do share with us at castletown@opw.ie.
Celine Hanratty
Castletown Guide