A little over a week ago, on 28 May, we launched the much anticipated Grace Kelly exhibition in Castletown. Thanks to a generous loan from Galerie Ferrero in Nice, where a smaller collection of original, vintage press photographs was on display last summer to mark the 60th anniversary of Grace Kelly's wedding to Prince Rainier III, we are able to show this summer the fascinating transformation of Hollywood icon Grace Kelly into Princess Grace, a European Princess.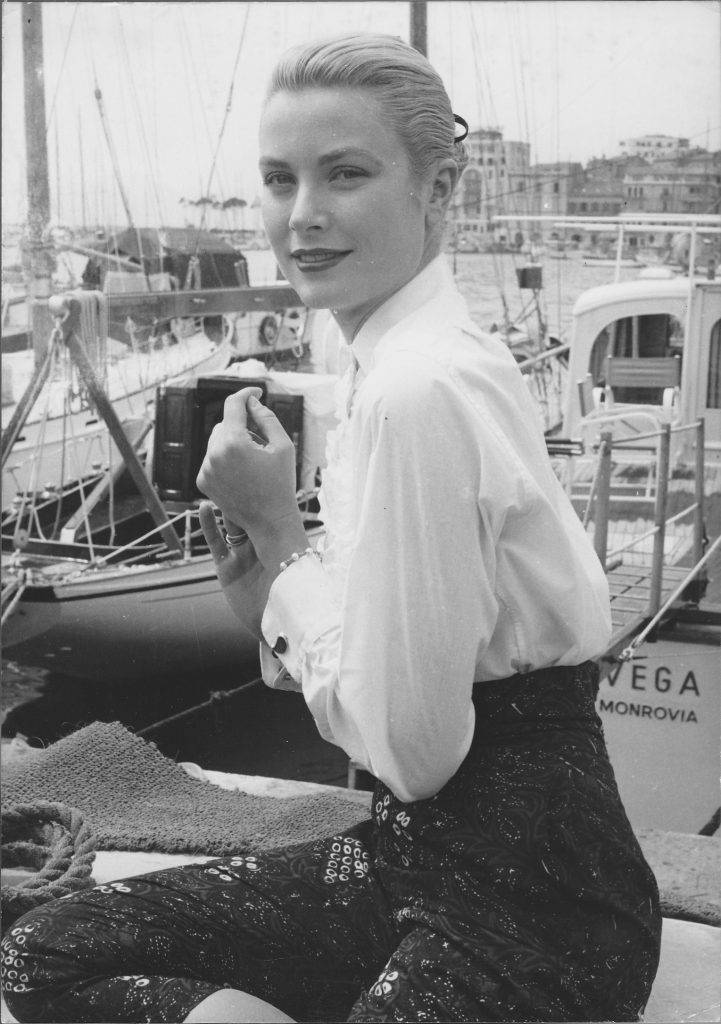 We were particularly delighted that the owner of the collection, Guillaume Aral, the curator, Virginie Journiac, and the historical advisor, Prof. Leonardo Saviano (official historian of the Principality of Monaco)  could join us, and the event was made more special still by the presence of Ann Geary, née Kelly, a cousin of Grace Kelly from County Mayo. Ann recognised her brother Simon in one of the photos, giving Princess Grace a gift he had made when she visited Newport during her first official visit to Ireland in 1961!
Her Excellency Ms Geraldine Byrne Nason, Ambassador of Ireland to France and Monaco, opened the exhibition with a poignant and wonderful speech about Grace Kelly's links with Ireland, which she has kindly permitted us to share on our blog. We hope you enjoy reading it and that you will come to see the exhibition for yourself soon.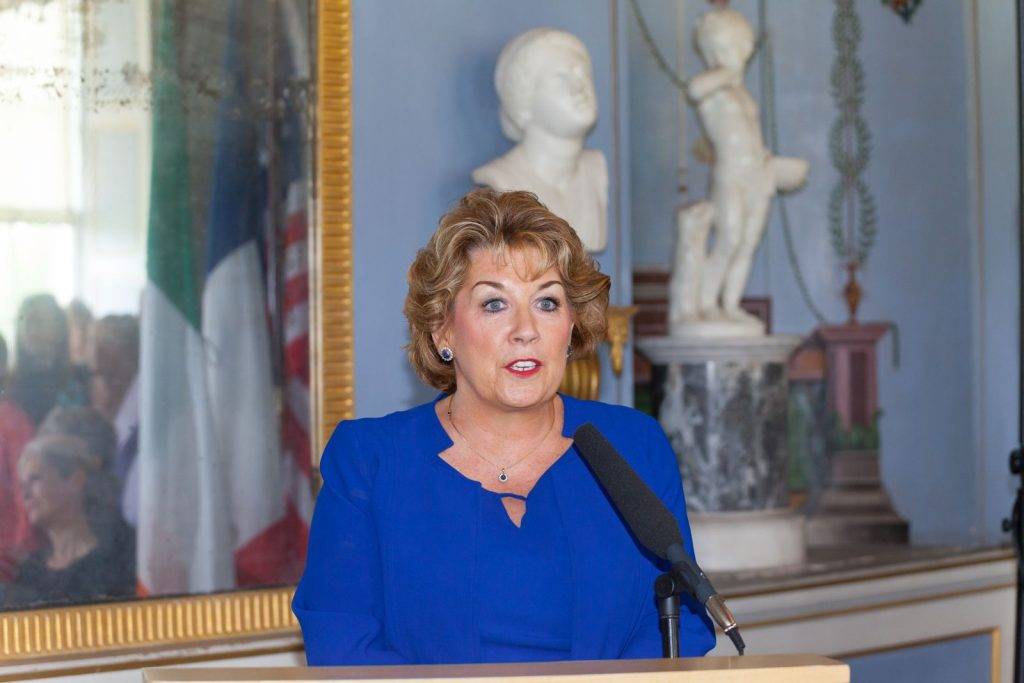 Ladies and Gentlemen,
As Ambassador of Ireland to France, and most importantly, as Ambassador to Monaco, it is a real honour and privilege to be invited today to inaugurate this extraordinary exhibition: Grace: Photographs, 1955–1969.
Today, in this wonderful Castletown House, we celebrate "the Princess of Monaco who came from Ireland"!
I actually had the pleasure of seeing this exhibition in Nice, in July of last year at Galerie Ferrero when I met M. Guillaume Aral for the first time. Unfortunately it was on the day after the horrendous terrorist attack in Nice which killed so many innocent people, but the exhibition certainly brought a serenity to an otherwise difficult day.
Thank you Guillaume for sharing this exhibition with us. And congratulations also to Virginie Journiac, the curator who is also with us today.  I know that so many Irish and foreign visitors to this wonderful Castletown House will revel in the images over the coming months. Thank you especially to Chairman Maurice Buckley of OPW and to the wonderful Mary Heffernan who has been the inspiration for today. Dorothea Depner's work in bringing this exhibition together has been outstanding.
I am also very touched by the presence today of Ann Kelly and her family from Co. Mayo – they are relatives of Princess Grace, and I am also delighted to salute the attendance of Leonardo Saviano, the Grimaldi historian.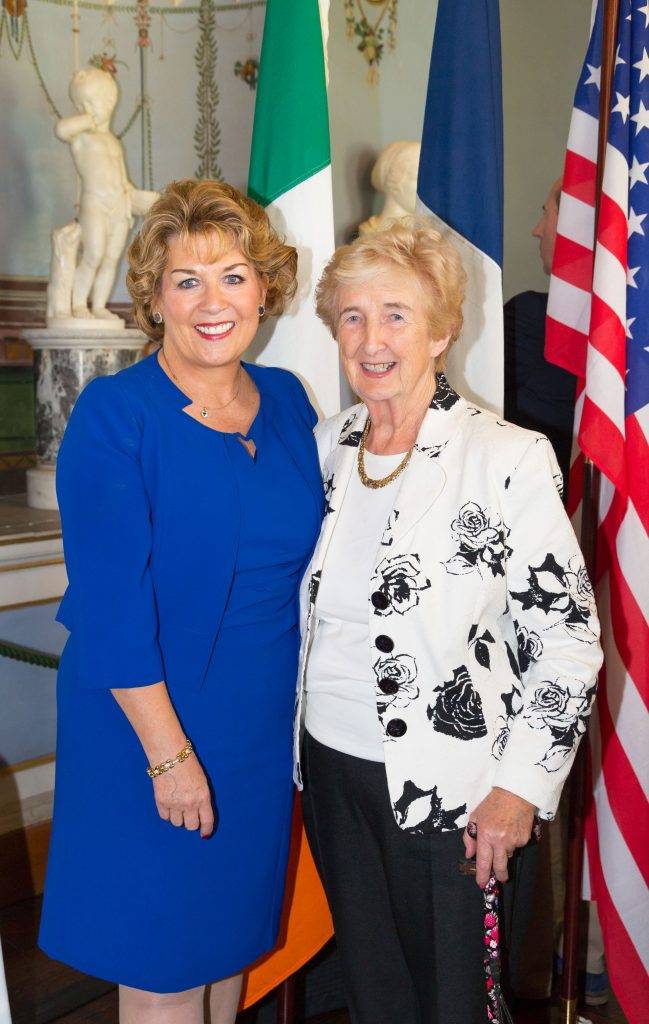 While Princess, Grace was born in Philadelphia, worked in Hollywood, and lived out her adult life in Monaco, she comes home to us today, as every inch our Irish Princess.
We make no bones about it – we are once again reclaiming Grace as our own in Ireland.  In that rather extravagant claim, we also embrace not only her husband Prince Rainier – who had the eminent good sense to marry a Kelly (!) – but also her beautiful family, and in particular HSH Prince Albert whom I have had the privilege to come to know in my current role as Ambassador to Monaco. I am proud to describe HSH as a true friend of Ireland. I believe that HSH truly considers the affinity which he has with Ireland, as one that grows from real kinship, and his warm relationship with us is all the more precious because of that.
Relations between Ireland and Monaco are deep and sincere – I would say unique in their affection.
That Princess Grace was extraordinarily beautiful and elegant is clear from the photographs.
That she had a remarkable poise and elegance, and was truly captivating, is all in evidence here.
The truth is that Grace Kelly was royalty in her own right, before ever she married Prince Rainier and became Princess Grace of Monaco.
As we trace her charmed life through this exhibition, we see flashes of her time in Hollywood and the tentative steps as she met her future husband for the first time, in Monaco, while she was at the Cannes Film Festival…
We see their glamorous wedding, their early honeymoon days, the intimacy of their family life and the elegant official functions and visits over which she presided. The images from the exhibition really are "the stuff of fairytales."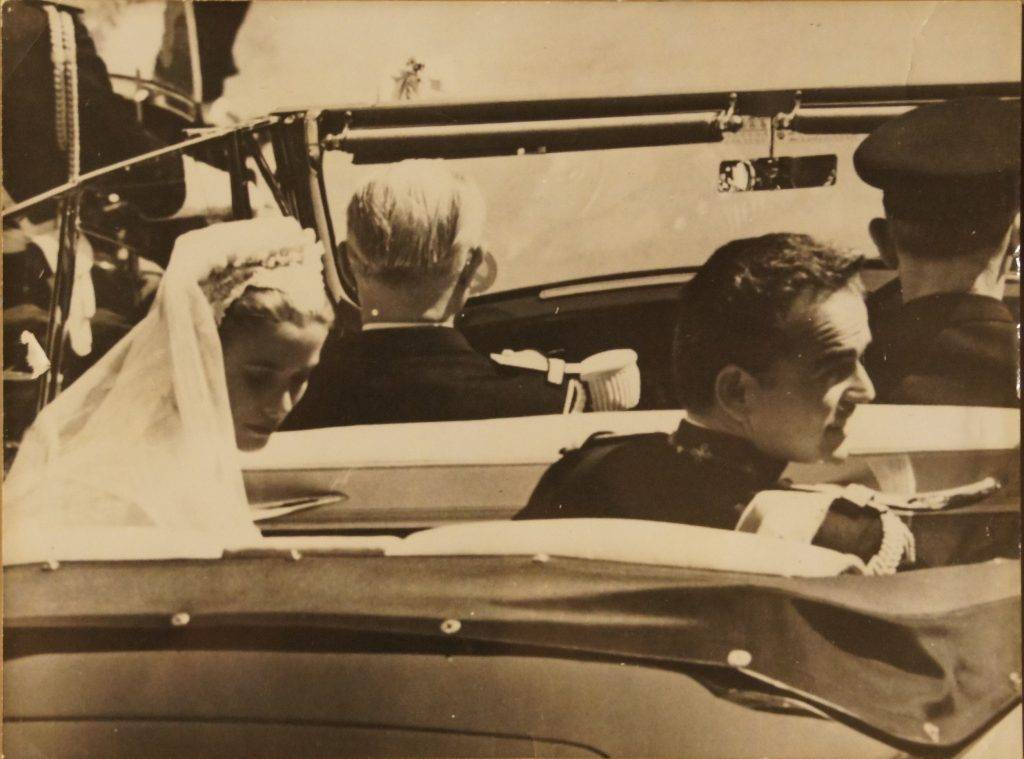 But in looking across the images, I am also reminded why the Princess and her relationship with us in Ireland was so important.
Princess Grace visited Ireland many times during her lifetime, but one visit stands out. In 1961 Prince Rainier and Princess Grace came to Ireland on an official visit. Indeed, during that visit they made a stop in Drogheda my home town, which my beloved now deceased mother Helen always recalled as a magical moment. Drogheda – indeed I believe the country as a whole – was decked in the red and white of the Principality, as was I, by all accounts, as an infant in a pushchair or a "pram" at the time!!!
In a poignant letter to President de Valera after that visit in 1961, Princess Grace wrote:
"I feel very inadequate in trying to express the love and emotion I feel for the Irish people. The remembrance of the thrilling welcome we received and of your generous welcome I shall cherish always."
Television footage of the time shows the throngs of ecstatic well-wishers who lined the streets.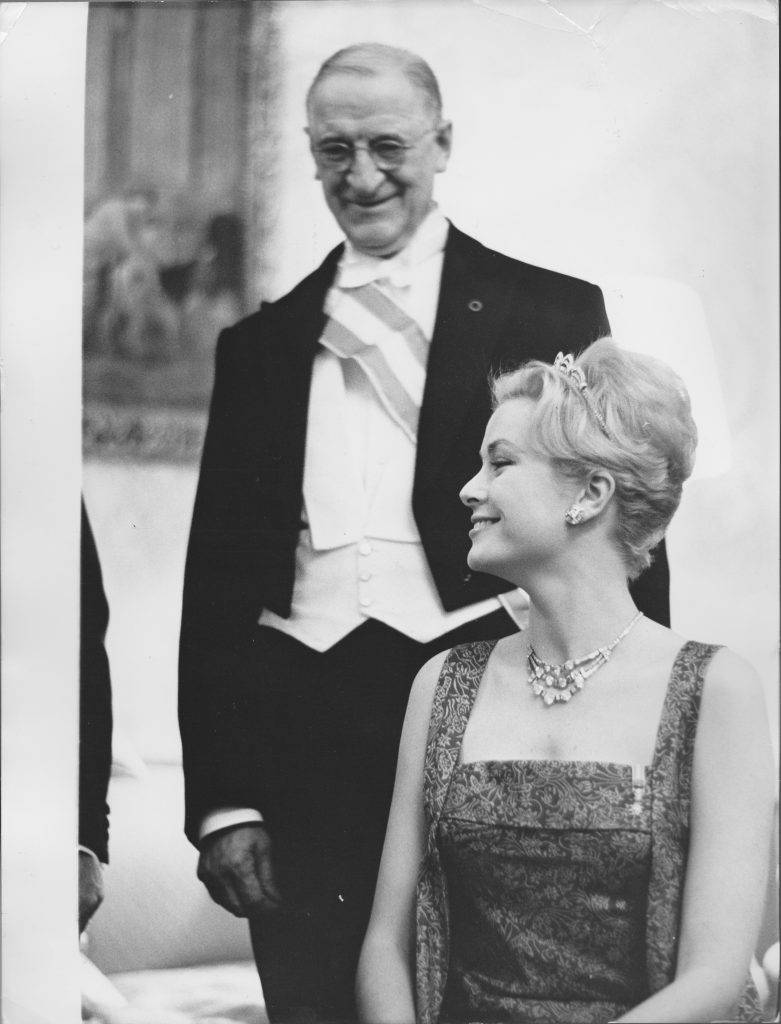 The remarkable thing about that visit is that it was in fact the first official visit by any Head of State to Ireland since the foundation of our State. It couldn't have been more poetic.
Ireland in 1961 was poor, still struggling to open up economic opportunity for its people at home and to find its feet abroad in the community of nations.
In 2011, in welcoming HSH Albert to Ireland, President McAleese described Ireland at that time as:
"a nation whose spirit was often sustained by the success stories of its emigrant children, none more remarkable than the story of the young Grace Kelly whose family hailed from Mayo or the young Jack Kennedy, President of the United States who was to visit us two years later in 1963."
As the grandchild of an emigrant, Princess Grace was enthusiastically embraced and returned to a truly unprecedented rapturous reception in the land of her ancestors.
It was a fairytale homecoming then, because through her life, and that of President Kennedy, Ireland began to see the new possibilities. Her exported children and had grown into Princesses and Presidents. Anything was possible.
I believe that it was through that awakening that we in Ireland also began to look in a new way at those who had been forced to emigrate from our shores, like Grace Kelly's grandfather John Henry Kelly who left Co. Mayo in the late 1800s.
Instead of mourning their departures, never to return, we began to scratch the surface of what has now become the wonderful family we call the Irish Diaspora. We unleashed a new dynamism – drawing down on the energy and solidarity of the global Irish family. We have never looked back. Claiming our emigrants as our own is part of what we are in Ireland today.  We are so very proud in that way to claim our Irish Princess!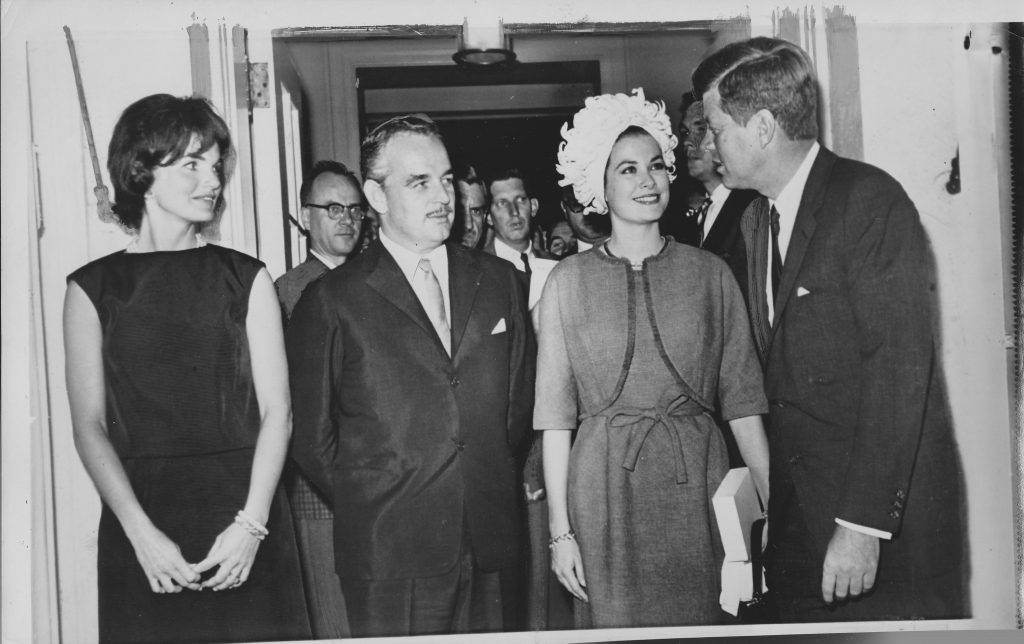 Princess Grace is of course well known across the world as a Hollywood star, a fashion icon. But she was also a woman of vision.
She didn't leave her rich Irish heritage to the pages of nostalgia. She preserved some of this "rich heritage" through the collection of Irish books and manuscripts in the Princess Grace Irish Library in Monaco, where I have had the honour to speak on several occasions. I am also proud to be the honorary President of the Princess Grace foundation. The Library serves as a hub of Irish cultural activities and studies on the Mediterranean, and has seen legions of Irish writers and cultural figures give lectures and readings. It is truly a cultural gem. Thanks to Princess Grace's attachment to her Irish family origins we continue to enjoy a pride in Irish culture in the Principality of Monaco.
So Ladies and Gentlemen,
Princess Grace's visit to Ireland (and to Drogheda!) in 1961 brought more than a touch of magic, and glamour, it came at a seminal moment for Ireland when we looked ahead to new horizons, filled with much hope and an awakening sense of possibility.
I have read that in the Kelly household they had a champagne toast that ran:
So children dear, while we are here,
Let's drink a little toast,
The world is at your fingertips,
So make the very most!
As we look around this exhibition, let's rejoice in the Irish Princess who did just that.