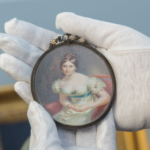 Marguerite Gardiner, neé Power (1789 – 1849) Countess of Blessington. This beautiful miniature is after a portrait by Thomas Lawrence.
Marguerite Power was born near Clonmel, Co. Tipperary. Her father was Edmund Power, a small landowner. As a child, she loved to read, spending much of her time engrossed in reading books and encouraged in this by her dear friend Anne O'Dwyer. At the age of fifteen, her father arranged for her to marry Captain Maurice St. Ledger, a much older man who was said to be prone to 'fits of insanity'. They married in Clonmel Parish Church on March 7th 1804.
Maurice was a cruel husband who treated her badly and after 3 months, when he was called to go to India with the East India Company, she refused to accompany him and returned to her parents' house.
In 1808, she met Thomas Jenkins, who's regiment was stationed in Tullow and she accompanied him to Hampshire, thereby escaping the home in which she had had little happiness since the death of her dear friend Anne. For six years she lived with Jenkins, before she met Charles Gardiner, 1st Earl of Blessington. Jenkins agreed to release Margaret for a fee of £10,000, which was to cover the costs of the many gifts of jewellery and other items he had bestowed on her.
Charles was a widower and his late wife had borne him four children, two before their marriage and two legitimate. These two legitimate children, Harriett Anne Gardiner and Luke Wellington Gardiner are also featured as part of this collection.
In 1817, Farmer died after falling from a window and Margaret was now free to marry Charles which she did in February 1818 and became Marguerite Gardiner, Countess of Blessington. After a short visit to Ireland, they settled at 10 St. James' Square in London. Margaret loved society and was loved by all who encountered her. Her dazzling wit and her intelligence made her very popular and she loved the conversation and attention that this society brought her.
In August 1822, Margaret and her husband left England for Europe. Travelling through France, they met the actor Count D'Orsay who remained a companion of Margaret's throughout her life. They travelled to Italy, settling first at Genoa where they befriended the poet Lord Byron.
After the death of the young Luke Gardiner, Charles was left without an heir and it was decided that their now constant companion Count D'Orsay should marry Charles' daughter Harriett. They married in 1827, she only sixteen years old.
In 1829, Charles died and in 1830, the bereft Margaret left Europe to return to St. James' Square. Her financial circumstances being now quite altered since the death of her husband, she moved to Seamore Place, to a smaller house and began to write in order to supplement her income. In 1834, her 'Conversations with Lord Byron' were published and she became the nation's highest earning author.
In 1831, Harriett and Count D'Orsay separated by mutual consent, neither having ever really been fully in love with the other and the Count remained Margaret's companion for the rest of her life.
She moved again, to Gore House, Kensington, which is now the site of the Royal Albert Hall, and her home continued to be a centre of attraction for all that was distinguished in literature, learning, art, science and fashion.
Her income from her writing however, could not discharge her many debts and in 1849 she and the Count moved to Paris. She died later that year, it is said of a burst heart.
The Irish Portrait collection has been donated to the Irish Georgian Society and is on loan to Castletown House to be displayed in the Lady Kildare Room.